I have only one exercise prescription for you for the rest of the year!  Are you ready?
What do all the following words have in common? Gratitude, forgiveness, surrender, heal, inspire, serve, give, move, mission, balance, courage, fearless, bold, move.  They are god words not good words. They have a higher meaning when taken with weight.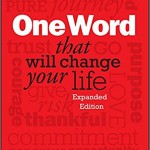 Based on the best selling book "One Word that will Change your Life" by Jon Gordon, every year Shahana and I and our team pick one word to help guide us and our decisions during the year. For example, when Shahana had our first child Eshaan she picked the word "legacy" and the following year was "thrive" as her body recovered from the sacrifice. When I injured myself in 2012, I needed to focus on my exercises and recovery. A friend who lost a loved one, their word was faith. 
Millions of people are doing this exercise, its our forth year and it truly works.
50% of all resolutions for the year are broken by end of January.  It's time to do something different, 2019 is going to fly by!
 If you wake up in the morning and see the world through the lens of your "word" you become it. We must simple ask our selves what do we want for 2019? What do we want to invite into our lives. While I know its a busy time, preparing ourselves for growth and change takes reflection. Please consider taking a few minutes of quiet introspection daily on what "word" will help guide you to a better  2019.  Order the book or get the audio, its only a 45 min read! 
Please share your word when you find it or email me with any questions.
With gratitude,