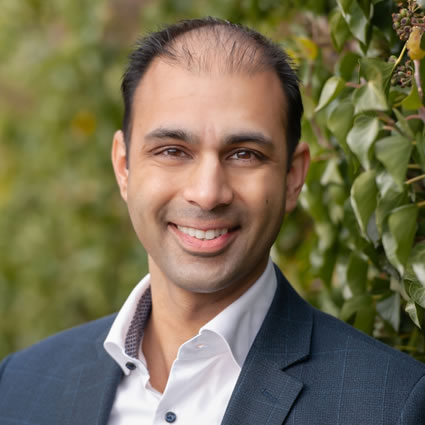 Meet Dr. Khalid Alibhai
I'm so thankful our medical doctor referred my mother to our Chiropractor"
– a phrase you don't hear often enough. I wont forget my father saying, "Your mom's been in a accident". Rushing to the hospital, I saw my mothers life transform from running marathons to lying in the hospital, not knowing if she would live.
I'm so thankful our medical doctor referred my mother to our Chiropractor
Starting October 1998, she suffered severe headaches, neck and low back pain. Active in our community, mom was always a leader and pillar of health for our family and community. We watched mom suffer, no longer able to work, only 40 years old, she felt life had thrown her a curve ball and feared she would never be the same.
Only teenagers, we felt helpless with a lack of information about what exactly was happening and what to do. All we knew was she had countless appointments with specialists, who diagnosed her with severe whiplash and prescribed medication to manage the pain and advised her to start "rehabilitation".
Under the care of her family medical doctor, she started to see a massage therapist and physiotherapist. The pain slightly receded but feeling like she reached a plateau in her recovery, her medical doctor referred her to see our community Chiropractor. Having never seen a Chiropractor and surprised her medical doctor referred her, she was unsure what to expect and was admittedly fearful it would cause more pain.
Under his gentle care of adjustments and exercise prescription, we saw a surge in mom's energy. She began jogging after 6 months, driving us to school and was back at work and her medication count was sliced every month.
To this day, she describes her initial visits with him as offering "instantaneous relief".
At the age of 16 I suffered an injury playing football; mom knew right away where to take me. With a quick recovery, our chiropractor educated me on what it meant to be a Chiropractor.
With a personal and family history of Chiropractic care, I discovered that my Bachelors degree in Exercise Science from UBC was the perfect match for this profession. I graduated from the Canadian Memorial Chiropractic College with clinic honours.
I hit a wall. I could barely walk. I remember having to lay down in between patients simply to ease the pain down my legs.
Here I was a chiropractor and yet my back pain was so severe.
Denial was an easy solution. I kept working and working hoping it would just go away but it only worsened.
I decided to try various therapies but after months there was still no improvement. I finally saw my family doctor and after even more months of waiting I saw a spinal surgeon. I remember sitting with my wife in this sterile white room waiting for the doctor. I was hopeful and nervous that he would tell me he could help. His words were, "call me if it gets worse I can't help you right now", and that was it. I just felt numb, not knowing what to do next.
When we found out we were pregnant with our first child, I realized how much my fear had been consuming me. I was scared of not being able to bend and pick him up, scared of being in constant pain, scared of not being able to do all of the things I needed to do as a father when he was older.
Once I defined my fears and clarified what I truly wanted, I was able to create an emotional shift in my state. I started swimming daily and doing my exercises more consistently. I also started seeing an Activator Method Chiropractor that specialized in a systematic analysis of the spine.
And then, the changes started to happen. I could sit for longer. I could move around without pain. I remember riding my bike outside for the first time – it was exhilirating. Slowly I began to build my confidence and of course, the birth of our son was a huge emotional boost.
Truthfully it has taken years for me to train not only my physical body but my mental state to get where I am today.
My story is a testament that it can be done and that you can heal but healing is as much as it is physical as it is mental and often times encompassed in fear.
We hope to help you by giving you hope and helping you achieve your goals, because you deserve the best.
Dedicated to Health
My wife, Shahana and I live in Abbotsford and have committed ourselves to improving the health of our communities in Guildford, Surrey, and the Fraser Valley. With Shahana trained as a family physician and fitness instructor, her sister training to be a Naturopath and her parents as Pharmacists, we have shared our knowledge and passion to offer the best patient-centered care.
We are a family that loves to juice, cook with Ayurvedic ingredients, hike, run, play badminton and squash and of course get adjusted regularly.
Thank you for visiting our site and your interest in our office. Give us a call so we can help you with your health challenges and goals.
EXPLORE CHIROPRACTIC
---
Dr. Khalid Alibhai | (604) 581-3411