Shahana and I love the power for food. We are excited to share this delicious Coconut Whipped Cream recipe (below). I still can't get over how amazing it tastes, and the best part is that it can be prepared in under 5 minutes.
Want more great health tips like this? Join us for free on Saturday, May 26th at the second annual Connect 4 Health  at the Guildford Library.  Space is limited. RSVP here.
I'v also invited Neil Englund from Ideal Protein to discuss how to achieve your optimal weight.  I promise it will change the way you think and act towards food.
Coconut Whipped Cream from Dr. Shahana Alibhai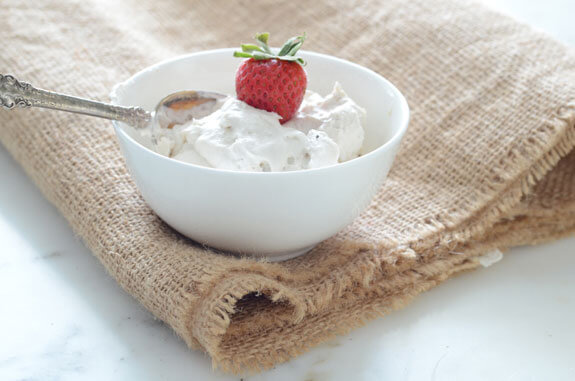 1 can (400 mL) full fat coconut milk  (without guar gum listed as an ingredient) *I like Aroy-D Coconut Milk
1-2 Tbsp sweeter (i.e. maple syrup)
1/2 tsp pure vanilla extract
Pinch of salt
1. Chill a can of coconut milk in the fridge for 24 hours
2. Open the can and scoop the solid white coconut cream into the bowl (Be sure not to discard the coconut water – this can be used as a great non-dairy substitute or to make a delicious smoothie)
3. Add the sweeter, vanilla and salt into the coconut cream and whisk well (Can use a hand or electric mixer to create a fluffy consistency)
4. Chill in the fridge until ready to use
5. Optional: I love adding 1/2 tsp of ground cardamom and a pinch of saffron for a delicious dessert. Feel free to experiment by adding different spices and/or flavours. Let us know what your favorites are!
Connect 4 Health 2018