Chiropractic Care
Gentle, Low Force Chiropractic Adjustments
Chiropractic care is about much more than just relieving back or neck pain–and we can't wait to help you experience it. We view chiropractic as a way for correcting imbalances in the body at its source–the nervous system.
When your nervous system is functioning how it was designed to, you'll notice that things just seem to work better–some patients sleep better, feel better, experience reduced pain, and even find improved digestion.
When you choose us for your care, you'll always get exactly what your body needs to thrive.
What is the Activator?
The Activator Method is for anyone looking for a technique in Chiropractic that is effective, gentle and of course safe. This technique involved using a handheld instrument that gentle moves your spinal bones and muscles into proper alignment. There's no 'popping' or 'cracking' to be concerned with–just a gentle, relaxing adjustment.
Patients respond faster when their muscles and ligaments are relaxed during the treatment. This method has been rigorously researched over the last 50 years and is becoming the most popular form of low force adjustments.
The Activator method is ideal for patients of all walks of life, from children to seniors and everyone in between.
Your First Visit
If you have had pictures taken (x-ray's /MRI's/CT Scans, Ultrasounds) already please bring them to your visit. If you are unable to obtain them our staff will gladly have them faxed to our office. Please contact our office for a release form.
Health Benefits
Improved spinal health, which leads to less pain, improved function of the nervous system, increased energy, and a better mood, to name a few. Every adjustment is geared towards helping you achieve your goal, whether it be to regain health or maintain it.
What To Expect
It's a natural response to be nervous. Our goal is to understand why and make you feel at ease as we get to the root cause of the problem.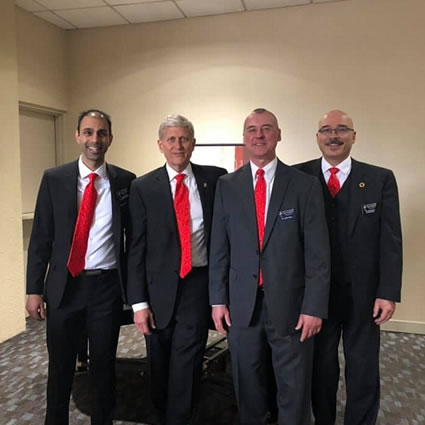 Your Surrey Chiropractor's Education
Dr. Khalid Alibhai is trained and certified to use the Activator Technique and is available to answer any questions you might have about your care at Stuart Chiropractic.
Did you know Dr. Alibhai is an Activator Method Associate Clinical Instructor and helps teach this method in seminars across North America?
We are one of only a few clinics across British Columbia that are Advanced Certified and are trained to deliver the best for you.
Learn more about the Activator Method.
Custom Orthotics Available
Because we believe at correcting the issues in your body at the source, we find that sometimes that involves recommending custom orthotics. All day, your body relies on your feet for support–and that can be a big ask–especially when they aren't supporting you properly.
Thankfully, custom orthotics can add the support you're missing to thrive and feel better.
We're proud to offer non-invasive scanning to determine if orthotics can help you. If you're having pain in the lower back or feet, we will likely recommend you have the scan done to get the best idea of what's going on, though you can always ask for the scan if you're just curious!
If we deem custom orthotics could help you, there's also no need to dip your foot in any messy plaster–a digital scan will give us all of the information we need to create your unique insole support.
Curious about custom orthotics? Ask us at your next visit if they're right for you.
Visit Us Today
Dr. Khalid Alibhai is trained and certified to use the Activator Technique and is available to answer any questions you might have about your care at Stuart Chiropractic.
If you're wondering if care can help you, we'd love to chat. Contact us today to book your first appointment–we're happy to offer same-day visits!
CONTACT US
---
Chiropractic Care | (604) 256-7599