Good morning!

Here are tips and tools from the week that have helped our family and team. Friendly reminder, this Sunday is day light savings, turn that clock one hour forward!
1. Realize Your Truth
We can be strong and resilient with every step we take toward our truth, no matter how long it takes. No one said it would be fast, but together we can find and give each other the words that push us closer to where we want to be. Here's to our gradual progressions and doing so with love for ourselves!
2. Stillness is the Key
Every crisis will call upon all our mental resources. There will be pressure coming in from all sides. There will be considerations within ourselves and our environment that need to be weighed. So, when the whole game depends on you, can you be the stillest person in the room? In Ryan Holiday's book, "Stillness is the Key", I was reminded of how powerful being in the present moment is. Achieving that necessary stillness to get things right lies in the power of now. Don't rush out of the present. The important stuff will still be important by the time you get to it
3. The Perception Prescription from Dr. Shahana
If there was a prescription I wish I could write for my patients, it would be the one of perception. In my new article in SHEcorporated magazine, I explore the power of emotional health and how it can help us live more fulfilling lives. Read more about my formula for self-awareness: N2S2.
4. Quote to Ponder
"Take a chance! All life is a chance. The man who goes furthest is generally the one who is willing to do and dare." – Dale Carnegie
5. Ask Yourself
Are my fears true? Or are they simply just thoughts I need to overcome in my mind?
Be well and Be great,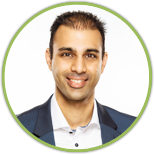 Dr. Khalid Alibhai DC and Dr. Shahana Alibhai MD, Family and Team Stuart Chiropractic
Appointments: (604) 581-3411