Good morning!

Here are tips and tools from the week that have helped our family and team.
1. Hip Spin Up Routine
Prime your hips for the day or release tension with the hip spin up exercise. This is a 5-minute morning mobility routine that can help make your body more elastic and energized for the day!
2. What is Emotional Health?
Your emotional health is the upstream piece that is directly linked to your mental health. Whether or not your emotions are telling you to react, pay attention, and use that information for good. We can all learn to be more emotionally literate, and when we do, we will see major improvements in our mental health as well. Tune in to Dr. Shahana's post to learn more.
3. Book Recommendation
To what extent can your hospitality reach? I'm reading Will Guidara's book called "Unreasonable Hospitality: The Remarkable Power of Giving People More Than They Expect" and learned that you can be unreasonably hospitable. Turn ordinary interactions into extraordinary experiences by acknowledging people, making them feel seen and heard, or giving them what they want even if they haven't thought of what they want yet.
4. Quote to Ponder
"There is hope, even when your brain tells your there isn't"
5. Gentle Reminder
This a gentle reminder for everyone to be grateful even for the little things you get to do vs have to do.  Gratitude can ease your nervous system into a rest and relax state and lets you carry on the day being more purposeful, intentional, and loving.
Be well and Be great,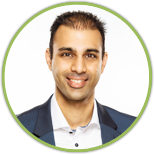 Dr. Khalid Alibhai DC and Dr. Shahana Alibhai MD, Family and Team Stuart Chiropractic
Appointments: (604) 581-3411