Here are some words of advice and wisdom from the week that have helped our family and team.
1. Improve Your Balance
  In this exercise, I'm going to teach you how to prevent or recover from fall-outs. No one is too young or too old to get started with improving balance and you can incorporate it in your daily routine.
2. A Lesson in "Showing Up"
Don't let good be the enemy of perfect. Don't have 20 minutes to do your typical work out? Most of us would think "It's no point even doing 5 minutes?". In fact the opposite is true. Remember it's how you show up on the days you have the least time or the days you are most fatigued that mean the most; so make those 5 minutes count!
3. Dr. Shahana's Mental Health Tip:
We might have hundreds of different emotions but is there a common denominator? The root I believe for many of our emotions especially those that are 'uncomfortable' is that of fear
Fear of judgement
Fear of not being enough
Fear of abadonment
Fear of imperfection
By asking yourself "What would this say about me?" and asking this repeatedly, up to 7 times, you can often get to this important nugget which can help you understand your thoughts, feelings and behaviours in a new way
4. Quote to Ponder from Dr. Shahana
"Failure is only so if you choose to name it that"
5. Book Recommendation
If you struggle with self-mastery or if it's an aspect in your life you want to learn, try reading "Discipline is Destiny" by Ryan Holiday. There are many ways we can keep ourselves in check so we don't risk ruin.
Be well and Be great,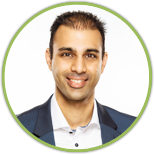 Dr. Khalid Alibhai DC and Dr. Shahana Alibhai MD, Family and Team Stuart Chiropractic
Appointments: (604) 581-3411