Here are some words of advice and wisdom from the week that have helped our family and team.
1. We often get so caught up by our "inner roommate" – a steady stream of dialogue in our heads we call our thoughts and emotions. 
Have you ever thought that not every thought, emotion or feeling you have has to be analyzed but rather just acknowledged? We live in a world where suppression and denial are tantalizing in the short term but detrimental in the long term. The irony is that by acknowledging your emotions you are more equipped to let them go if they no longer serve you.
2. Dr. Shahana's Mental Health Quote
"We do not suffer from a lack of joy, simply from a lack of recognizing it."
3. Upper Body Strengthening Routine
If you have forward rounded shoulders and need to open things up, let your muscles do the job by doing this exercise which you could do in 10 minutes or less.
4. Book Recommendation
During our moments of despair, we often consider our pain as something that will never end. In the "Book of Awakening" by Mark Nepo, I was reminded of how I can ground myself and have the right focus. I was empowered knowing that I am larger than my pain.
5. Blast from the Past. Time to Thrive: Think Well, Eat Well, and Move Well
    Join Dr. Shahana Alibhai MD, Dr. Shabita Teja ND, and Dr. Khalid Alibhai DC as we reveal how to thrive in three key areas of health in this webinar recording. Come with an open mind and ready to thrive.
Be well and Be great,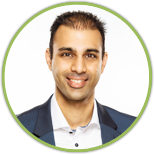 Dr. Alibhai's, Family and Team Stuart Chiropractic
Appointments: (604) 581-3411