Here are some words of advice and wisdom that have helped our family and team.
1. How to Curb the Feelings of Being Overwhelmed: FOUR S's from Dr. Shahana
Create SPACE
SIMPLIFY choices
SPOTLIGHT the things you appreciate
SLOW Down.
2. Dr. Shahana's Mental Health Quote
"If you want live a contented life, you have to know what your expectations are of whatever you are going into… and you are responsible for your perception"
3. Shoulder Stretch with Band
You can improve your shoulder range of motion and posture, even get rid of neck, shoulder, and lower back pain by doing this exercise. Try to perform daily for 90 seconds on each side.
4. Book Recommendation: 
We may not be born with an enormous amount of resilience but it is a muscle we can build. It comes from within us and from the support around us. You can learn this like I did in Option B by Sheryl Sandberg in which she shares her story including many others' backed by Adam Grant's research and evidence on finding joy no matter what the adversity is.
5. How could a single word change your life?
    Where your attention goes, energy flows. Think of words like Grit, Service, Love, Forgiveness, Gratitude, Surrender, Clarity, Progress, Notice, Reconnect, Heal, Fearless, Decisive, Reflect. Wake up every morning living your life through "your word" and it can transform your day and your life.
Be well and Be great,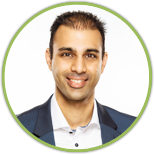 Dr. Alibhai's, Family and Team Stuart Chiropractic
Appointments: (604) 581-3411