Here are some words of advice and wisdom that have helped our family and team.
1. Shahana and I do this one exercise at the end of every year. No matter how hard a year has been, we reflect on all the "wins", all the beautiful moments, the things that DID go well. By appreciating these moments you can start to invite more of them in 2023. Here is a short video I did that may help you.
2. Gratitude Note: Most of the paper mail we receive these days are bills or ads. When was the last time you hand wrote a note to someone? Surprise someone you care about with a hand written note (gratitude note), it's impactful and a genuine display of your effort and character.
3. Dr. Shahana's Mental Health Tip: The Slow yet Sustainable Process of Healing
Healing can start when you begin to forgive yourself as well as others, when you begin sharing your story with people, and start voicing what you believe in. Take note of these signs and give yourself a pat on the back for taking a step into the right direction.
4. Quadriceps Muscle Foam Rolling
    Excessive sitting and standing can cause your muscles to stiffen. Take a look at this exercise where I show you how to get your muscles to slide and glide better.

5. A Quote to Ponder from Blaise Pascal
   Clarity of mind means clarity of passion, too; this is why a great and clear mind loves ardently and sees distinctly what it loves.    
 
Be well and Be great,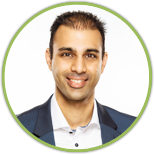 Dr. Alibhai's, Family and Team Stuart Chiropractic
Appointments: (604) 581-3411