Here are some words of advice and wisdom that have helped our family and team.
1. Dr. Shahana's Mental Health Tip: The 333 Rule for Diverting Your Focus from Anxiety
      SEE – Note down the first three things you see.
      LISTEN – Concentrate on the first three sounds you hear.
      MOVE – Move three body parts like your fingers, toes, and elbows.
2. An Empowering Question
What if nobody else can help you with the current hurdle in your life despite reaching out to others? Oftentimes, the solution to the problem is within. Our minds and bodies are capable of more than we think. Watch this video to hear about my own experience with overcoming back pain.
3. Quote to Ponder
"When we are no longer able to change a situation – we are challenged to change ourselves." -Victor E. Frankl
4. Relieve Neck, Shoulder Pain, and Headaches with a Lacrosse Ball
I've prepared an easy-to-follow exercise so you can give yourself a release from neck and shoulder pain, including headaches. You're going to need a Lacrosse Ball for this one.

5. Food Bank Update
We raised over 220 lbs of food at $230! We appreciate everyone who donated at our office. Let's still celebrate our small wins, knowing they eventually lead to something bigger.
Be well and Be great,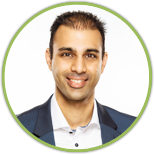 Dr. Alibhai's, Family and Team Stuart Chiropractic
Appointments: (604) 581-3411