Here are some words of advice and wisdom that have helped our family and team.


1. Dr. Shahana's Mental Health Tip: How to Take Care of Someone with Anxiety
     Anxiety disorders affect 31% of adults at some point in their lives. Fortunately, there are several ways to cope and make treatment more effective. Here are some tips for showing care to someone with anxiety:
     1. Express concern and start a dialogue.
     2. Ask how you can help.
     3. Try adjusting your support to reflect their preferences or attachment type.


2. Low Back Sparing Technique
     Ease your back from stooping often and save it by following along with this simple exercise. I'm going to teach you the proper stance on picking up something beneath you while your back stays straight, using your hips to your advantage.

 
3. Replace "Have to" with "Get to"
     Have you been feeling dreadful or tired about getting things done? Try replacing your self-talk with "I get to do something" instead of "I need to do something."  Start with gratitude, improve your mood, and have a richer perspective with this simple change of phrase.

 
4. A Quote from Brené Brown
     "Joy comes to us in moments—ordinary moments. We risk missing out on joy when we get too busy chasing down the extraordinary."

 
5. Debunking the Vulnerability Myth
     This week, I'm reading "Daring Greatly: How the Courage to Be Vulnerable Transforms the Way We Live, Love, Parent, and Lead" by Brené Brown. One thing that stuck with me is how vulnerability is not a weakness. It is the core, heart, and center of meaningful human experiences. If you want hope, empathy, accountability, and authenticity in your life, vulnerability is the path.
Be well and Be great,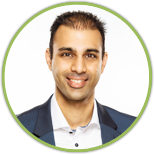 Dr. Alibhai's, Family and Team Stuart Chiropractic
Appointments: (604) 581-3411