Here are some tips and tools from the week that have helped our family and team.  
1. Special Announcement: Today is Kassandra's last day at the office as she moves on to the next chapter in her career and journey! We are so grateful for her consistent love and care for our patients and team over the years. I will especially miss her laughter, bright eyes and "get it done" approach.  Here is a special message from her. Feel free to reply back to this email if you want to send a special message or on the social media post.
2. Sunscreen: We may not think about what's in our toothpaste, hairgel, shampoo etc but we should be thinking about what's in our sunscreen. Here is a trusted source from the EWG Sunscreen Guide. Look up the sunscreen you currently use or find the right one for you.
3. Mental Health Tip from Dr. Shahana
You cannot control the mind with the mind…
We have all been in situations where we feel so 'ramped up' that no amount of 'self talk' seems to help.
One of the best scientifically backed tools you can use to increase your PARAsympathetic drive ('rest and relax') is through the "Physiological Sigh"
Simply put, take two sharp inhales followed by a long exhale. This can be done through the nose or mouth but preferably inhale through the nose and exhale through the mouth
It takes about 30 seconds for your heart rate to slow down so be patient but this is one of the quickest and most accurate ways to move your body into a calmer state. 
4. Clothing Drive Update: We collected the equivalent of over 25 large boxes of clothing. Here is a quick video we did to show you and to say thank you! Good work everyone! In the coming days if you still had some items, feel free to drop them off and we'll make sure they get there.
5. Quote from Dr. Shahana: "Comparing ourselves to others is contracting ourselves to the smallest version of who we are"
Have a blessed weekend.
Be well and Be great,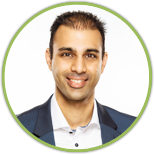 Dr. Alibhai's, Family and Team
Stuart Chiropractic
Appointments: (604) 581-3411
Visit Website