Here are some tips and tools from the week that have helped our family and team.
1. Exercise: Tight hips? Try the Elevated Pigeon: No need to lay on the ground and with multiple levels demonstrated.

2. Low Iron: While there are many causes of low iron, a common way to boost iron in your diet is cooking with a cast iron pan The Journal of the American Dietetic Association found iron content in 100 grams of spaghetti sauce jumped from 0.6 mg to 5.7 mg after being cooked in a cast iron pan. Here is the cast iron pan we purchased for our home.
3. Mindset: If you have a want to you can find a how to. When patients show up at our office they want to get better and stay better, everyday we love providing a spark of hope and being a part of the solution.
4. Equipment: A massage stick is a handy tool to iron out sore muscles. Use it on your legs or get someone to roll out your shoulders. There are lots of options, here is one.
5. Raffle Fundraiser: In support of those affected by the B.C floods we are raffling off gift cards, self care products, tech and even personal training sessions. Tickets can be purchased at our office or by phone. We are grateful for your support!
Have a blessed weekend,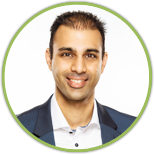 Dr. Alibhai, Family and Team
Stuart Chiropractic
Appointments: (604) 581-3411
Visit Website