Here are some tips and tools from the week that have helped our family and team.
1. Is revenge bedtime procrastination real? Putting off bedtime because there was a lack of control of the day time events is real and very common! When caught in a whirlwind of stress and commitments, like work, child care, cooking, cleaning, family, it can easily feel overwhelming. What's the solution? A couple strategies… What get's scheduled gets done. Are you scheduling time for yourself? To get fresh air, simply eat lunch, 5min of mediation, or an adjustment? You are what you perceive…do you believe in a friendly or hostile universe? 
2. Recent Purchase: Lighting candles in the evening is great way to wind down. We got gifted this Digital Candle Lighter. It's so handy and just needs to be plugged in to recharge.
3. Healing: I was reminded from my own injuries that healing happens in instalments. The idea that persistence and hope is fertile soil for the body and mind.
4. Kids Book: Maybe: You are more amazing that you know. Tells the story the unbound potential with all of us. Check it out.
5. Quote to reflect on: "Start before you are ready…" – Mel Robins
Have a blessed weekend,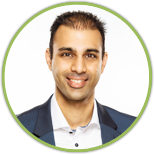 Dr. Alibhai, Family and Team
Stuart Chiropractic
Appointments: (604) 581-3411
Visit Website