Hey everyone,
I'm excited to fly to Calgary today to help teach the Activator Method, the same technique we specialize in at the office. You can find certified doctors all over the world here for your family and friends.  We will be closed today but someone will be available to answer your call from 9am-6pm.
Here are some tools and tactics I came across this week to help you live at your best.
1. Using  natural cleaning products at our home and office is important to us. For many surfaces we use vinegar and tea tree oil as disinfectant. Here is the recipe. 
2. Men in Women in Okinawa, Japan live an average of seven years longer and have the longest disability free life expectancy on earth. Why? They believe its because of what they call "Ikigai" - The reason you wake up the morning.  Read more about discovering your Ikigai here. 
3. Quote of the day related your Ikigai – Howard W Thurman said, "Ask what makes you come alive and go do it." … "Don't ask what the world needs. Ask what makes you come alive, and go do it. Because what the world needs is people who have come alive."
4. Another inspiring Ted-talk for anyone struggling with Work, School or Parenting. Amy Cuddy's famous Ted Talk  – Fake it till you Make It.
5. Im fascinated with Mung Beans lately. Did you know they have 24g of protein per 100g? Easy to cook, high in nutrients and low in cost.
Have a blessed weekend.
Your Surrey Chiropractor;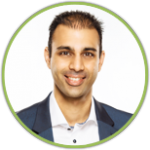 Dr. Alibhai, Family and Team at Stuart Chiropractic