When was the last time you felt acknowledged? We are told to "praise the effort not outcome" when it comes to our kids but how often have we received praise for either in our lives? Many of us feel invisible in our efforts and endure the emotional labor of our tasks silently.
Sometimes these three words are what you need to hear – "I see you". I see you trying to keep the house tidy while worrying about what to make for dinner or feeling unsure about how to pay the bills for next month while trying to juggle work and school. I saw the relationship stress and crying children and aging parents and pain. I see the layers of worry and thought and frustration and debate going on and trying to keep things together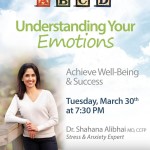 Thank you for everything that you do. I see you.
-Dr. Shahana Alibhai, MD Stress and Anxiety Expert.
Sign up for Dr. Shahana's Free Webinar on Understanding Your Emotions on Tuesday, March 30th at 730pm.
*Reminder to "spring forward" the clock this Sunday!
Be safe and be well,
Dr. Alibhai's, Family and Team
Stuart Chiropractic
Appointments: (604) 581-3411
Visit Website