Here are some tips and tools from the week that have helped us.
1. Today is World Spine Day. Did you know? Back Pain is the biggest single cause of years lived with disability on the planet, with one in four adults estimated to suffer from back pain during their lives. Prevention is therefore key. Start with what you can control.
2. Prevention: Did you remember saying "that problem started when I was a younger". Here is the science why posture is vital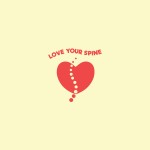 to our health. Getting your child's spine checked and empowering them to take control of their spinal health can help prevent future problems.
3. Meditation Audio: I was introduced to Davidj's guided mediation by my mom years ago. It's worth a quiet moment!
4. Book Recommendation: Think Like a Monk by Jay Shetty is a book to fall in love with and gift to others.
Have a blessed weekend.
Be safe and be well,
Dr. Alibhai, Family and Team
Stuart Chiropractic
Appointments: (604) 581-3411
Visit Website